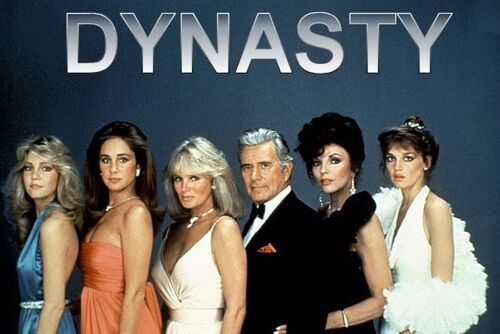 In addition to the abundance of information regarding the Dynasty broadcast, the TV viewers were able, though the mass-media, to learn some very interesting issues related to the authors of the show, as well as to its actors in front of and behind the camera. We have classified them into the production trivia and the actors trivia. Please, read on this page of the site the variety of information of all kinds and some juicy stories regarding the Dynasty.

Actor George Peppard ("The A-Team") was originally considered for the role of Blake
Angie Dickinson ("Police Woman") was originally considered for the role of Krystle
John James (Jeff) originally auditioned for the role of Steven, but was given the role of Jeff instead.
For the first half of 1981, John Forsythe was also heard on "Charlie's Angels"
Originally the name of Blake's ex-wife was Madeline (and not Alexis)
Model Maggie Wickman plays the role of the veiled Alexis in the season 1 finale
Sophia Loren was rumoured to play Alexis
Heather Locklear joined Dynasty in 1982 but did not become a regular cast member until season 6
Al Corey quit playing Steven due to being unhappy about his portrayal
In the 29 May 1982 edition of Radio Times, Dynasty actor Dale Robertson (Walter Lankershim) commented of the programme "I think it is marvellously acted, splendidly directed, crisply characterised. But I do not approve of all those immoral goings on. There's everything from men eyeing men, to women groping after married men; even the horses are homosexual"
One of the actors considered for the role of Dex was the late actor Jon-Erik Hexum, who was the then real life love interest of Joan Collins (Alexis). Fearing there'd be tension on the set if Collins and Hexum broke up, producers cast Michael Nader instead
Michael Nader beat out 400 other actors for the role of Dex Dexter
In season 4 an episode took place at Denver's real-life Carousel Ball and featured cameos by former President Gerald Ford and his wife, former Secretary of State Henry Kissinger and Marvin Davis, the host of the Carousel Ball, his wife and daughter
Joan Collins sang in one episode from season 4 when she performs "Let's See What the Boys in the Backroom Will Have
In the season 4 cliffhanger In the cliffhanger, Dominique reveals a shocking claim- that she's a Carrington. However, producers reportedly filmed several other false revelations to keep it a secret it: among them Dominique reveals that she's the ex-wife of the late Cecil Colby and Dominique reveals that she's Kirby's mother
The casting of Diahann Carroll is historically significant as she became the first African-American character to be prominently featured in a prime-time soap.
Richard Chamberlain ("The Thorn Birds") was rumored to have been considered for the role of Daniel Reece
Daniel Reece, who appeared from December 1984 to April 1985, was Rock Hudson's very last role
Raquel Welch was rumored to have been considered for the role of Lady Ashley
aron Spelling cast Emma Samms as Fallon after she guest starred on another Spelling show, "Hotel". With Emma Samms replacing Pamela Sue Martin as Fallon, producers replaced the portrait of Martin (introduced in Episode "That Holiday Spirit") with one of Samms (in Episode "Kidnapped")
Joan Collins was not present in season 6's premiere. She refused to show up for filming as part of a plan to try and renegotiate her contract with the network
The character of Miles Colby was originally to be called Max. However, producers changed the character's name to avoid confusion with actor Maxwell Caulfield who played Miles
Alexis and Sable are cousins, which would make Fallon and her new love interest Miles are cousins, as well as Fallon and her ex-husband Jeff, since Jeff's mother is Sable's sister
Producers denied that the role of Caress (Alexis's sister, who writes a tell-all novel about Alexis) was based on Joan Collins' real-life sister, novelist Jackie Collins
In season 6 Blake says his mother's name was Ellen Carrington. However, in the episode entitled "The Threat" (1983), Fallon stated that she was named after Blake's mother
In season 6 producers tried to conceal Pamela Bellwood's real-life pregnancy as it was not written into the script, but is very apparent on-screen that she was pregnant at the time it was filmed
Producers fired Catherine Oxenberg over salary demands
Karen Cellini replaces Catherine Oxenberg in the role of Amanda. Karen Cellini was working in a fast food restarant when she was spotted by Dynasty producers, she was hired due to her likeness of Catherine Oxenberg. Karen had no acting experience prior to Dynasty
Krystina celebrates her 3rd birthday in season 7 , although she was born in episode 98: "Krystina," which originally aired on December 5, 1984. Thus, Krystina would be only two years old and her birthday would be in December, not in February
John Forsythe routinely vetoed doing any storyline the involved Blake and Alexis getting together do to him not wanting to personally involve himself in a storyline that involves adultery. This included a planned storyline, designed during the show's dying days to try and revive interest in the series, to have Blake develop amnesia and fall in love with Alexis
On the E! True Hollywood Story, Joan Collins states that during the final season of the series, producers asked her to take a paycut to continue the run of the series by limiting her appearances during the season. This explains why Alexis was absent from many episodes during this season
Prior to the cancellation of the series, Joan Collins (Alexis) and Michael Nader (Dex) had announced their departures from the series, which explains their tumble over the balcony
If "Dynasty" had been renewed, it was rumored that Diahann Carroll (Dominique) would rejoin the cast. There were numerous references to Dominique leading up to the final episode, including her aunt and uncle.
Model/actress Lauren Hutton was also rumored to have joined the show had it been renewed for a 10th season. It was never confirmed officially but the voice of the mysterious woman in the limo at the end of season 9 seems to be her's.
Gordon Thomson was originally to reprise his role as Adam in the reunion shows, but due to scheduling conflicts with his role on the daytime soap opera, "Santa Barbara," he was replaced at the last minute by British actor Robin Sachs. Thomson later filed suit against the producers, but settled out of court
Jack Coleman was filming a pilot for a series and was unavailable for the mini-series so producers sought out his predecessor Al Corley
In an interview in Soap Opera Digest, actor Michael Nader (Dex) was reportedly upset that he was not included in the mini-series. His character's fate was somehwat vague as someone mentioned in the reunion that after his and Alexis's tumble over the balcony in the final episode, she managed to land on top of him, but "he didn't fare all that well
The house used in the original series and the one used in the reunion shows are different
John Forsythe is the only person to appear in all 220 episodes of the series. Linda Evans appeared in 204 of the show's 220 episodes. Joan Collins appeared in 195 of the show's 220 episodes
Ad blocker interference detected!
Wikia is a free-to-use site that makes money from advertising. We have a modified experience for viewers using ad blockers

Wikia is not accessible if you've made further modifications. Remove the custom ad blocker rule(s) and the page will load as expected.