"

The Wedding

"
Episode no.
Season 4
Episode 12
Directed by
Irving J. Moore
Written by
Eileen Pollock & Robert Pollock (story), Michael Russnow (teleplay)
Production no.
DY-071
Original airdate
1983-12-28 (ABC)
Ratings
2nd (26)
Season Guide
Season 4
Plot Overview
Edit
A few weeks have passed to the day before the second wedding between Blake and Krystle. Tracy gets Krystle to turn over the credit cards and the key to the sensitive files while Krystle is away on her honeymoon.
Kirby refuses to let Jeff help her and will not even talk to him. She will suffer alone with the pains she is having during her pregnancy. Adam is also tired of being shut out. Adam confronts Jeff in the gym at the mansion but that goes no where. At Blake and Krystle's wedding, Adam eventually has some alone time with Kirby and tells her he will be damned if his child will be raised as Jeff's as a Colby. Kirby assures him that the child will have the name Anders and that she and Jeff are getting a divorce.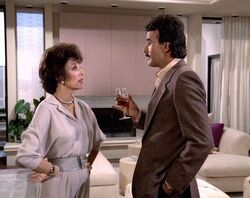 Adam believes this is his opportunity, again, with Kirby and tells her that the two should get married and raise the child. Kirby sets Adam straight and reminds him once again that she does not love him.
Peter has settled down at La Mirage. He asks Claudia to make sure an architect friend of his has a north facing suite. When Claudia goes to make a note of it, Peter cannot help himself but to stare at Claudia's back. Then he makes a pass at her. Claudia is not pleased and promises to tell Fallon. Peter dares her to since he will deny it.
Steven stops by the penthouse and Alexis gives him an early birthday gift - 1000 shares of Colby Co stock. Alexis wants Steven to share that news with Blake on his wedding day. She then tells Steven she had planned something big at the St. Denis Club for his birthday. Steven asks to move the date since Claudia already planned something much smaller on that date to coincide with Blake and Krystle's return.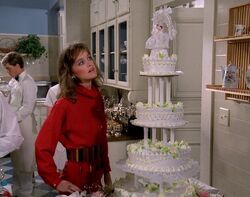 Alexis does not like that she needs to compete for Steven's attention and intends to do something about it. Alexis tries to get Claudia to change the date, but Claudia will not since Blake and Krystle have already accepted the invitation. Alexis tells Claudia that she does not believe it is a good idea for Steven to get close again with his father, but Claudia disagrees. Besides, the decision is Steven's.
Alexis is less than thrilled with respect to the nuptials between Blake and Krystle and will do anything to ruin it. At first, Alexis goes to Blake and tells him that she would like to turn the art studio she deeded to L.B. into a playhouse for the boy. She can have workman over right in time for the wedding. Blake will have none of that and threatens to kick off any workmen that show.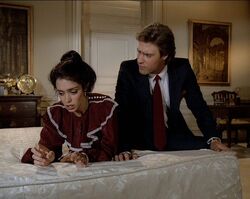 Alexis then has a better plan. After finally getting a hold of Dex, Dex comes to Alexis's office and the two pretty much have a nooner. Afterwards, Alexis tells Dex that the two should explore getting leases on mineral rights in Brazil. She has already booked a flight for the two for Rio the following day. Dex is no fool, he knows that Rio is the same place where Krystle and Blake are honeymooning. He will not share Alexis with anyone, especially not Blake.
If Dex does not want to go to Rio, Alexis can ask Mark. He is to go to Rio with her and the two will be staying in the same hotel as Krystle and Blake.
rest of cast listed by end credits order:
Peter Mark Richman ... Andrew Laird
Liam Sullivan ... Minister
Peter Duchin ... Himself
Virginia Hawkins ... Jeanette Robbins
Betty Harford ... Hilda Gunnerson
Carol Ann Henry ... Irene
William Beckley ... Gerard
Grace Simmons ... Female Guest #1
Susan Gordon-Clark ... Female Guest #2
Robert Rothwell ... Male Guest #1
Nicholas Tierney ... Male guest #2
Produced by
Esther Shapiro .... executive producer
Richard Shapiro .... executive produce
Aaron Spelling .... executive producer
Douglas S. Cramer .... executive producer
E. Duke Vincent .... supervising producer
Elaine Rich .... producer
John B. Moranville .... associate producer
Ursula Alexander .... assistant producer
Production details
Edit
Shooting dates: from 03-Nov-1983 to 11-Nov-1983
Deleted scenes : Blake talks to Marcia; Jeff and Fallon argue over Peter coming to the wedding; Steven and Dex argue over Alexis' affair with Dex; Adam blames Jeff for not telling him he is divorcing Kirby; Blake and Krystle chat in the limo.
Filming Locations: Warner Hollywood studios.
Claudia Blaisdel Carrington: Steven loves his father, Alexis. And he loves you, too - very much. And that's the way it should be. But if you can't accept an equal display of affection from Steven to both of his parents, that's your problem. Please don't try and make it mine.