"

The Home Wrecker

"
Episode no.
Season 2
Episode 15
Directed by
Curtis Harrington
Written by
William Bast & Paul Huson (story), Carol Saraceno (teleplay)
Production no.
TC-039
Original airdate
1987-01-15 (ABC)
Ratings
62th (12)
Season Guide
Season 2
Plot Overview
Edit
Frankie and Jason defend themselves and manage to chase the gun man away, not knowing that it was Hoyt Parker. They return to Bel Air, Frankie feels guilty since the idea with the trip was hers. Jeff suggests personal protection for Jason.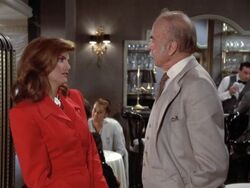 Sable suggests Monica to tell Jason about Scott, but her daughter recognizes very clearly that Sable only hopes for Jason's interference and swears never to speak to her again if she tells him.
Hoyt Parker is snooping around and looking for information, obviously against Jason. Meanwhile, Jason wonders what Conny and Hoyt Parker might have had in common.
Kolia swears to Bliss that nothing has happened between him and Gina, they reconcile. Later, Kolia moves out in order to gain some privacy for him and Bliss. Unfortunately Gina is around when they make an appointment. Gina arranges that Bliss finds her half naked in Kolia's bathroom. Bliss runs away.
Fallon is planning to start working again, she's sick and tired of just hanging around doing nothing. Monica thinks the idea is gorgeous, but Jeff is of the opinion that she is occupied enough with her pregnancy. Jeff is also worried about the way Miles is acting ever since he has inherited Conny's shares.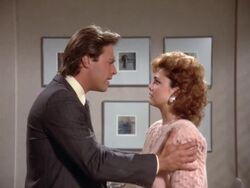 Jeff thinks that Zach has also something to do with the attempted murder on Jason, but Powers defends himself furiously by declaring he wants Jason alive for his revenge, not dead.
Channing keeps refusing to support any of Lucas' dirty tricks, not even since he has recently signed over her trust to her. Channing warns Jason that her uncle Lucas is fairly dangerous and ruthless.
Jason blames Sable for telling Zach about his buying Syncrodine so that he could insinuate himself into the business, too. Sable accuses Zach of destroying Colby Enterprises and thus of fighting her, too. Instead of a reasonable explanation he asks her to marry him and gives her an engagement ring which she accepts, but she says she needs time to think about an answer. Nevertheless, she is more than happy to show Jason her ring.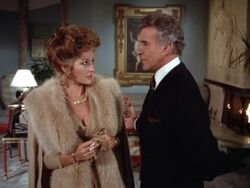 Frankie is worried about Jason, too, but he finally moves back to her into the pool house. Nevertheless, he is kind of shocked about Sable's engagement to Zach.
Cash wants to marry Monica, but she says she can't for Scott's sake. Scott runs away from home. Adrienne turns up at Jason's all excited to tell him and Frankie that Scott is gone and that Monica should start looking for him - since she is his mother.
rest of cast listed by end credits order:
Produced by
William Bast .... developer / producer
Paul Huson .... developer / producer
Eileen Pollock .... creator / supervising producer
Robert Pollock .... creator / supervising producer
Esther Shapiro .... creator / executive producer
Richard Shapiro .... creator / executive producer
Douglas S. Cramer .... executive producer
Aaron Spelling .... executive producer
E. Duke Vincent .... executive producer
Ursula Alexander .... associate producer
Shelley Hull .... associate producer
Dennis Hammer .... producer
Production details
Edit
Shooting Dates: From November 10, 1986 to November 18, 1986 (shot along with The Legacy).
Filming locations: Paramount studios.
Deleted scene: Cash tries to convince Monica to tell Scott that she is his mother.
Shortened scenes: While in bed with Fallon, Jeff worries over the fact that Miles could hurt Jason if he votes along with Sable; during her lunch with Monica, Fallon mentions La Mirage's fire and compares the hotel to an old friend.
Jason Colby: I haven't been shot at since World War Two. I didn't like it then, either.
Channing Colby: Miles, we are not gonna stay home and let Jeff and Fallon take all the bows.
Miles Colby: My God, I think I married my mother.
Adrienne Cassidy: So you wanna turn me into one of those desperate women who... who drink too much, who wear too much makeup, who have too much of everything except love? No, no. Not me, Cash.