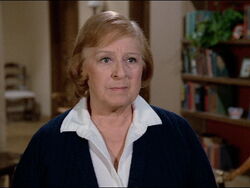 Mrs Gordon
is little
Danny
's nanny. She is a very nice elderly lady, who takes care of
Steven
's and
Sammy Jo
's son, being truly attached to the boy. We can see Mrs Gordon taking care of Danny in several ocasions, like in the courtroom or at Little Blake's birthday party. She's in her 60s and has light, reddish hair. She always wears a white shirt and, very often, a navy-blue cape or a dark sweater.
When a strange man from the park seems to show an ususal interest in Danny and even knows his name, she suspects that he may be dangerous. Claudia plays down the situation, but later mrs Gordon informs her that the mysterious man followed her and Danny to the apartament, then he called her on the phone. The nursemaid becomes really scared of Danny being kidnapped, just like it happened to Little Blake. Mrs Gordon's vigilance alarms her boss and she finally decides to seek help from Blake and Krystle, what makes Alexis furious and hostile towards Claudia. Alexis seems to dislike Mrs Gordon and the feeling is mutual, what is shown sooner, when Alexis comes to Steven's appartament. The nanny is also not really fond of Sammy Jo, and not only because her spiteful remarks. Mrs Gordon seems to see how lousy mother and a deceitful person Sammy Jo is. Danny's biological mother often argues with the poor nanny or even offends her. When Sammy Jo kidnaps Danny, the nursmaid feels guilty of neglecting her duties (what is, of course, not true). She confesses to Adam, crying and holding Danny's toy.
Photo Gallery
Edit
Ad blocker interference detected!
Wikia is a free-to-use site that makes money from advertising. We have a modified experience for viewers using ad blockers

Wikia is not accessible if you've made further modifications. Remove the custom ad blocker rule(s) and the page will load as expected.