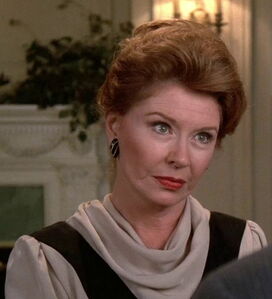 Marcia (played by Sally Kemp) is one of Blake Carrington's secretary. Unlike Alexis, who always hires young hunks, Blake preferes good manners and conscientiousness than looks. That's why his secretary is a mature lady (propably in her 50s), who always acts worthly and classy. Marcia has red hair and alwasy dresses very modest. She is not a type of a sexy secretary people can see in movies, but she's a good employee and her relations with her boss are close to friendship. She is in good terms with Krystle too. Propably Marcia works in Denver Carrington for a really long time - after Fallon's funeral she thanks Blake for keeping her on salary, knowing he has really tought time and financial problems.
Most often we can see Marcia apologizing when someone crowds into Blake's cabinet, and she couldn't stop the intruder. The character first appears in season 3 ("Kirby"), last time she is on screen in season 5 ("The Rescue"), when she attends Fallon's wake.
Ad blocker interference detected!
Wikia is a free-to-use site that makes money from advertising. We have a modified experience for viewers using ad blockers

Wikia is not accessible if you've made further modifications. Remove the custom ad blocker rule(s) and the page will load as expected.