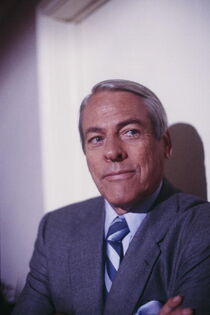 One of
Jason Colby
's worst enemies was
Lucas Carter
, the owner and publisher of a powerful Los Angeles newspaper. When his brother and his wife died, Lucas took in his young impressionable niece,
Channing
. Lucas spoiled everything he touched, including Channing. Although she was indebted to him, Lucas always tried to take more from Channing. Lucas had a vendetta against the Colbys, and used his beautiful niece to infiltrate the Colby compound and dig up as much dirt on the clan as she could. The one thing neither one had counted on was Channing falling in love with
Miles
and becoming a Colby herself. When she married Miles, Channing switched sides and shifted her loyalties to the Colbys. She warned Jason about just how dangerous Lucas could be. Lucas, meanwhile, sent his lawyer,
Sam Erskine
, to blackmail Channing. Still, she wouldn't budge. So, Lucas took his attacks to the press and began to publish sensationalized stories about the Colbys that started a backlash with the public against Colby Enterprises. Channing, in the end, left Miles and ceased her relations with the Colbys. It's doubtful if Lucas Carter ever eased up on his attacks.
Ad blocker interference detected!
Wikia is a free-to-use site that makes money from advertising. We have a modified experience for viewers using ad blockers

Wikia is not accessible if you've made further modifications. Remove the custom ad blocker rule(s) and the page will load as expected.