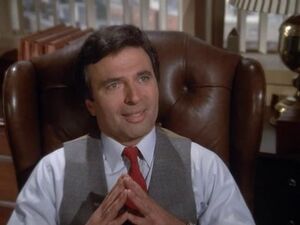 Assistant District Attorney
John Moretti
was a man with a vendetta. He was out to destroy the Colbys at all costs. It didn't matter if it were
Jeff
or
Miles
or even
Jason
, he was out to get to the Colbys. Taking down one of California's most powerful families, could certainly elevate his position in the District Attorney's office, and help him get revenge against Jason. Years ago, Moretti was the city deputy attorney who fought against Jason on offshore drilling. It was a battle he lost, and Jason won. Now, he began his work going after Miles for the death of Bill Mahoney. He had a solid case. He even had the murder weapon, until Jeff proved his brother had been framed. Jason warned the man to stay away from his sons. Moretti's chances for the District Attorney by means of defaming the Colbys seemed crushed. That is, until,
Sable Colby
wanted revenge on her husband and her sister
Frankie
. As Sable ran after Jason one last time, she fell down a flight of stairs. She told Moretti Jason had beat her and tried to kill her. As Jason and Frankie boarded a plane headed for the Dominion Republic for Frankie's divorce from
Roger Langdon
, Moretti stopped the couple and had Jason arrested for attempted murder. Now Moretti had the chief of the Colby clan in his clutches. Jason was jailed. Released upon bail, Jason asked Sable to drop her charges. She would with one catch: Jason abandons his divorce plans. Finally, at the protests and pleading of her children, Sable dropped the charges against Jason. Again, Moretti lost.
Ad blocker interference detected!
Wikia is a free-to-use site that makes money from advertising. We have a modified experience for viewers using ad blockers

Wikia is not accessible if you've made further modifications. Remove the custom ad blocker rule(s) and the page will load as expected.