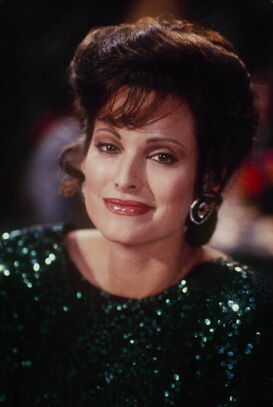 When
Sable Colby
made her appearance in Denver, she sent her associate,
Joanna Sills
, to test the waters. Joanna negotiated the sell of the
Carlton Hotel
to one of Sable's firms, Pavilion Resorts, with
Dex Dexter
. Dex, on the rebound from
Alexis
- again, was immediately attracted to Joanna. After the successful sale of the Carlton, Joanna and Dex became lovers. It was a short affair, because the attraction Sable and Dex felt for each other was undeniable. The two became passionate lovers, and Sable became pregnant. Although Joanna was dedicated to Sable and they continued to work together (they successfully manipulated
ColbyCo
controller Fritz Heath), Dex had come in the way.
Adam Carrington
was also attracted to Joanna. One night he showed up at her apartment, claiming he needed to "borrow a cup of sugar". Sable spied them as Joanna invited him in. Beginning to doubt Joanna's loyalty, Sable knocked on the door and entered the apartment, knowing full well that Adam was hiding in the other room. So Sable praised Joanna in helping her ruin Alexis. She credited Joanna for robbing Alexis of her tankers. When Sable left, Adam offered Joanna a position at ColbyCo. Later, after Sable threatened Joanna with blackmail, extortion, and industrial espionage, an outraged Joanna sought Adam. She had the "sugar" he was looking for. So, she jumped ship and joined ranks at ColbyCo, where she became Adam's new lover.