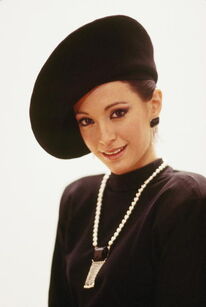 When
Kolya
Rostov's sister and dance partner in the ballet,
Anna
, returned to Russia, Kolya was left without a dance partner.
Sable Colby
, his American sponsor, began an exhaustive search for a successor to Anna, a dance partner suitable to the talented Russian dancer. After weeks of interviews, Sable found the perfect match, Kolya's former partner and ex-flame,
Georgina Sinclair
, much to the dismay of her daughter
Bliss
who was in love with Kolya. From the start, Gina makes things complicated for the naive Bliss. She plans to seduce Kolya right under Bliss's nose. Although Kolya fails to give in to Gina's advances, her tricks convince Bliss that Kolya is unfaithful. Koyla requests a new partner in order to save his relationship with Bliss. Bliss realized Kolya's innocence and took revenge - she dumped Miss Sinclair into Kolya's birthday cake! Who says you can't have your cake and eat it too?
Ad blocker interference detected!
Wikia is a free-to-use site that makes money from advertising. We have a modified experience for viewers using ad blockers

Wikia is not accessible if you've made further modifications. Remove the custom ad blocker rule(s) and the page will load as expected.