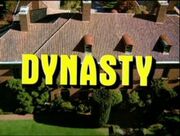 Dynasty
is an American prime time television soap opera that aired on ABC from January 12, 1981 to May 11, 1989. It was created by Richard and Esther Shapiro and produced by Aaron Spelling, and revolved around the Carringtons, a wealthy oil family living in Denver, Colorado. Starring John Forsythe and Linda Evans as oil magnate Blake Carrington and his new wife Krystle,
Dynasty
was ABC's derivation of the hit CBS prime time serial
Dallas
.
Though at first coming nowhere near the ratings of Dallas, the second season arrival of Joan Collins as Blake's scheming first wife Alexis heralded Dynasty's rise into the Top 20, and in 1985 the series hit #1. Dynasty was nominated for a Golden Globe Award for Best TV Drama Series every year from 1981 to 1986, winning in 1984. Dynasty spawned a successful line of fashion and luxury products and even a spin-off series, The Colbys, but by 1987 had dropped to #24. After nine seasons, Dynasty was canceled in 1989.
Development History
Edit
Section written by Brian Carringon Colby.
The critics for the three-hour pilot were mostly positive (read for instance here and here) but they had a dim view of the show then (for instance in this not so flattering season assessment.
After this assessment no less than Esther Shapiro entered the fray, with articles appearing with her take on Dynasty.
In the meantime, John Forsythe also advocated for the show.
In the last episodes, some changes were made (the scenes became shorter and more action-oriented, the "To be continued" at the end of each episode was dropped...), which brought more positive critics (read for instance here and here)
The dramatic Season 1 cliffhanger seemed to do the trick, generating excitement for the show, and leaving critics wondering who would play the Ex-Mrs. Carrington, that is if the show wasn't cancelled first. At the end of April Dynasty's fate was in the air.
On April 29, 1981 ABC revealed it's 1981/1982 line-up, and Dynasty survived the chopping block to tackle it's second season. Along with this reprieve came a schedule change from Monday night to Wednesday night (no more competion with CBS' hit M*A*S*H).
The big publicity push in regards to newspaper articles for Dynasty came in as early as July of 1981. The complete three hour pilot was to be re-broadcast at the end of July, with the Season 1 episodes playing throughout the Summer/Fall up to the Season 2 premiere. The big promotional push happening, with Stars of the show off on publicity junkets around the USA, as well as promotional materials being sent off to news outlets to highlight the repeats to air the coming months.
This article mentions market research done on the show, and how it indicated that viewers loved the love triangle between Blake, Krystle, and Matthew. Unfortunately, Bo Hopkins was leaving the series to pursue a movie career. Fear not though, plans were in place to fill that vacant part of the triangle. That spot would of course be eventually filled by James Farentino's Nick Toscani.
Ad blocker interference detected!
Wikia is a free-to-use site that makes money from advertising. We have a modified experience for viewers using ad blockers

Wikia is not accessible if you've made further modifications. Remove the custom ad blocker rule(s) and the page will load as expected.