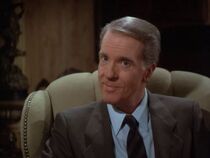 A brilliant Los Angeles attorney,
Arthur Cates
hit the big-time when he became one of the many attorneys to service the Colby family. Knowing all the legal ins and outs, Cates has been called upon by the Colbys time and time again, including
Andrew Colby
, his daughter
Constance
, his daughter-in-law
Sable
(since 1962), and his granddaughter
Monica
. Arthur helped draw up Andrew Colby's will after he became repulsed by the actions of his sons
Cecil
and
Philip
. So Arthur came up with legal means to comer anyone who tried to take a piece of the Colby Empire without being a Colby to start with. This came back to haunt Cates when Sable tried to undo Andrew's wishes on several occasions. First, Sable tried to prove Constance incompetent.
Garrett Boydston
, a legal mastermind himself, was weary of going up against Cates. Next, Sable tried to take the very house that Andrew Colby built away from
Jason
and Constance. Later, Cates counseled Monica about her rights as a mother who gave up
her child
for adoption. Always resourceful, respected, and ever scheming, Arthur Cates is one not to underestimate.